Read my earlier post on DEMYSTIFYING THE BEAUTY OF KOREA?
YAY! For our first-ever Annyeong Seoul Korean Fair, we're delighted to have two very famous Korean beauty brands join us. We'll be sharing more about these brands with you progressively. Nope, no pressure to buy, but it's a good opportunity for everyone to learn more about the brands, their philosophies and also product ranges.
But please… do not stop at just reading on this blog, ya? Nothing beats seeing and in this case, feeling and trying out the products for yourselves. So since we've already arranged for the brands to be showcase their items at the fair, do make your way down to check 'em out.
For now, let me share with you what Dr.G is all about.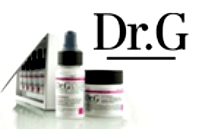 First things first, this is a 'doctor's brand'. Yea, we've all been hearing quite alot of this term in recent years, haven't we? Whenever we say 'doctor's brand', what we usually and really mean is that it's a cosmeceutical.
According to YOUR DICTIONARY, cosmeceutical (kŏzˌmə-so͞oˈtĭ-kəl / noun) is defined as a cosmetic that has or is purported to have medicinal properties.
Simply put, cosmeceutical is a combined word with 'cosmetics' and 'pharmaceuticals', and this is a relatively new wave in the cosmetics industry, with many of such cosmeceutical brands enjoying tremendous commercial success now.
Cosmeceutical skincare brands are also usually backed by extensive research and development, skin science and also stringent clinical tests to ensure its efficacy and guaranteed results.
Dr.G is a prestige beauty brand developed by Dr. Gun-Yong Ahn, who is the founder of GOWOONSESANG COSMETICS, the world's second largest medical skincare group. Gowoonsesang Cosmetics has two brandnames under its umbrella; Gowoonsesang was first launched in 2003 and then Dr.G was launched to target the luxury market segment in 2007.
I've lifted the skincare group's history and milestones from ITS OFFICIAL ENGLISH WEBSITE for your easy reference.
Not only is Gowoonsesang Cosmetics the second largest medical skincare group, Gowoonsesang is actually the No.1 skin clinic/centre in Korea. And know what? In Seoul, every one out of eight women is a user or has used Dr.G's skincare products or services! Whoa, is that impressive or what?!
Not sure if you know, but the Korean women are very big on hydration and whitening, so it's not at all surprising that one of Dr.G's best-sellers is its Hydra Intensive Mask. Here's an interesting tidbit, this mask is also Mrs Korean President's favourite mask! Yup, we're talking about the Korean president's wife.
Here's some information on the founder, Dr. Gun-Yong Ahn.
It's quite a riveting story, isn't it? A personal quest turned into a national success story!
Yes, it all started because of the facial scar that Dr. Gun-Yong Ahn had gotten from a burn when he was still a child. It affected him significantly and it propelled him to actually work towards entering medical school in the hope of finding a treatment for his scar. He got in, graduated with a medical degree, and then concentrated his research on skin restoration until he found a solution to treat his own facial scar.
The rest, as everyone would say, is history, keke! Armed with knowledge and also buoyed by his own success, Dr. Gun-Yong Ahn started to help patients suffering from damaged skin and he became a renowned skin restoration specialist. In 1998, Dr. Ahn, together with a group of 15 co-founders, formed Gowoonsesang Cosmetics which offers aesthetics, dermatology and plastic surgery services in Seoul.
They achieved much success with their services, and before long, their patients began requesting for skincare products after the dermatological treatments they had received from the clinic. Yes, then came the birth of Gowoonsesang skincare line and subsequently, the luxury brand, Dr G.
Dr.G | Brand Philosophy
* Medical formula for beautiful and healthy skin.
* Gowoonsesang means 'Beautiful World' in Korean. With the clinical knowledge, state-of-the-art technology and high quality ingredients, skincare products of Dr.G rejuvenate skin inside out.
Over the years, there's much extensive press coverage, celebrity endorsements and lots and lots of highly positive online reviews. Here's a sampling of the print media that had mentioned the brand.
You may click HERE to read more about Dr.G.
Dr.G products are distributed exclusively by Sa Sa Cosmetics in Singapore. Other than the Sa Sa stores islandwide, you can also check out the brand's star performers at the Annyeong Seoul Korean Fair.